For maximum security, the active e-Plate tag is broadcast-only and is programmed
once only with the vehicle ID (registration characters, VIN no, or any other chosen
identifier). The secure ID is broadcast from the reader to a database containing
all authorised vehicle data.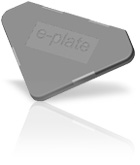 The tag is tamperproof and cannot be used on another vehicle. Optional levels of encryption available.
e-Plate conforms to IS024535 – the specification for EVI/ERI (Electronic Vehicle Identification/Electronic Registration Identification).