Tagging the vehicle – this can be the number plate (front or rear, or both) or
the windscreen (front or rear). e-Plate has a product for both plus options in
the case of plastic or embossed metal number plates. No modifications to the


plate are required.

Reading the ID - e-Plate readers are compact and can be fixed by the roadside
unattended), mobile or handheld by a foot patrol. Line of sight not required.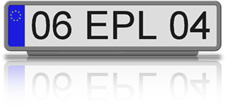 Mobilising the data – e-Plate employs
the i-Anywhere Platform by Sybase, the world's largest software enterprise
company, to get vehicle data to the
point of action.