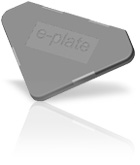 e-Plate is the leader in Electronic Vehicle Identification (EVI) using active RFID tagging. Why this technology? Because governments across the world are looking to tagging to optimise the use of road space, reduce non-compliance, combat vehicle crime and fight terrorism.
Active technology, uniquely, does the job. To be precise, the 99.98% accurate, secure identification of:
• any vehicle or vehicles (car, bus, truck, trailer, motorcycle)
• individually or in dense traffic
• travelling at any speed or stationary
• in either direction
• in any weather conditions;
. . . when it comes within a distance of up to 100 metres of an e-Plate reader.
Products

Tagging the vehicle - this can be the number plate (front or rear, or both) or the windscreen (front or rear)
read more »




Technical

e-Plate uses reliable long-range active RFID tag technology operating at 868MHz or 915 MHz and very low power readers which can be mains, battery or solar-powered.
read more »




Security

For maximum security, the active e-Plate tag is broadcast-only and is programmed once only with the vehicle ID (registration characters, VIN no, or any other chosen identifier). read more »